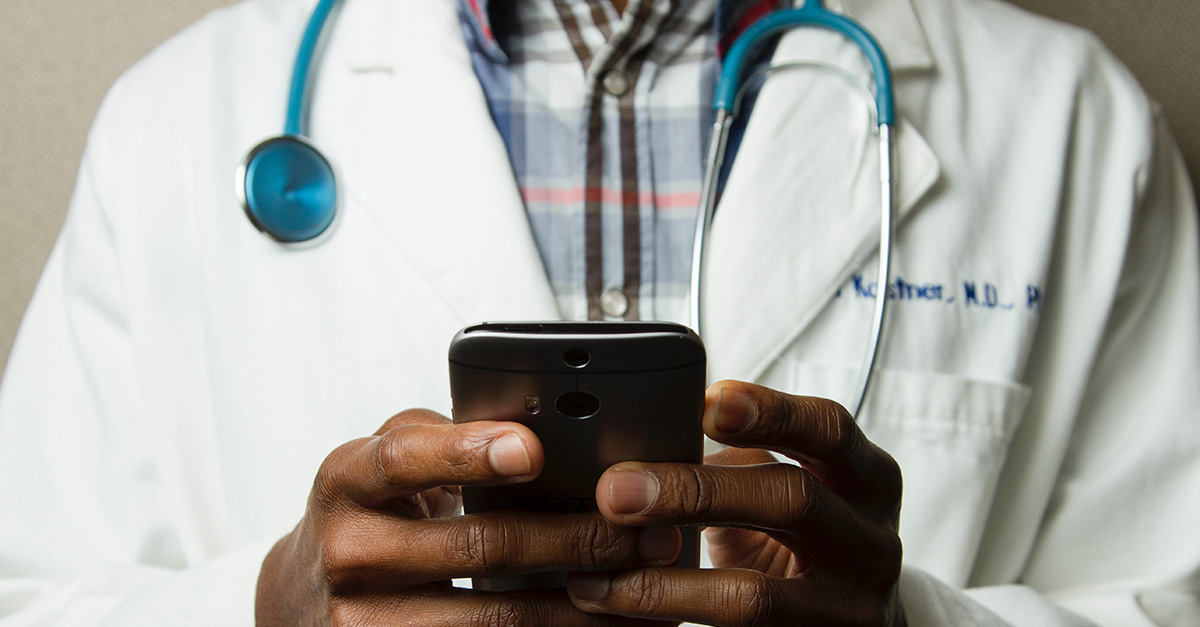 Telehealth is defined as the use of digital information and communication technologies to access and manage healthcare services remotely. It is often used as an umbrella term that encompasses all components of healthcare that are conducted through technology, including wearable devices. "Exceptional telehealth is more than a one-time virtual interaction", explains Roy Schoenberg, MD, MPH, President and CEO of Amwell. "It's part of a tightly choreographed network of care that meets patients' health needs in timely, personalized, and creative ways … When done right, telehealth augments traditional care and enables a more holistic experience that purposefully combines digital and in-person visits."
It's important to note that telehealth has its limits. In a recent Journal of the American Medical Informatics Association study, researchers found stark differences in telehealth access related to race, age, and language preference. Social determinants of health contribute to telehealth usage, with at least one in every four Americans lacking access to the requisite technology, internet connection, or digital literacy. To ensure that the shift to telehealth bridges the digital divide – instead of exacerbating health inequities – healthcare providers need to proactively address these barriers to virtual care.
The doctor will see you virtually
During the pandemic, policymakers reduced barriers to telehealth access for acute, chronic, primary, and specialty care. According to the American Medical Association (AMA), five key changes contributed to the accelerated adoption of telehealth:
Medicare pays physicians the same rate for telehealth services as in-person visits for all diagnoses throughout the pandemic
Physicians who are licensed in one state are allowed to see a patient in a different state
Physicians are allowed to waive or reduce cost-sharing for telehealth visits
Patients can be in any setting to receive a telehealth consultation
Patients do not need to have an existing relationship with the physician who is providing telehealth services
The pandemic prompted Sharp Rees-Stealy (SRS), a 580-physician multispecialty medical group in San Diego, to accelerate a shift towards virtual care that was previously expected to take a decade. As the leadership team prepares for the ongoing adoption of virtual healthcare visits, it is developing opportunities to improve patient-provider interactions, such as training staff in webside manner and implementing a virtual rooming process for care teams to address critical information prior to the telehealth visit. Sharp Rees-Stealy leaders anticipate that "… the skill and ability to take care of patients virtually will become a part of everyone's routine job duties. Remote care will cease being telemedicine and will become just another option for healthcare delivery."
Expanding access to the right care at the right time
Telehealth lowers barriers to care, which include prohibitively high costs, transportation challenges, and limited specialist access, among others. Since physicians delivered virtual care across state lines, hospitals – regardless of their location or resources – benefited from the expertise of world-class specialists to care for the influx of critically-ill and highly-complex patients. As such, telehealth can create a distribution system to help providers focus on the patients who need them most.
When telehealth is deployed for patients with chronic conditions, this can improve the total cost of care by 2-3%. Since the U.S. spends $3.5 trillion annually on healthcare and 90% of these expenditures are for individuals with chronic and mental health conditions, this has a significant economic impact. When the pandemic forced many health systems across the country to cancel or delay elective procedures, providing proactive and ongoing chronic disease management via telehealth was key to reducing both immediate acute-level care needs and post-surge demand.
According to the Mayo Clinic, 60-70% of all clinical decisions regarding diagnosis, treatment, admission, and discharge are based on lab test results. Routine testing in virtual care models has evolved to seamlessly connect patients to their local testing site. A number of partnerships, such as Teladoc and Analyte Health, have bridged the gap between telehealth providers and lab testing services. Direct integration of routine testing plays an important role in increasing the accuracy of telehealth diagnoses and treatment plans.
This care model of near-virtual office visits integrates telehealth services with "near-home" sites for testing and immunizations, such as retail or corporate clinics. About 9% of all emergency room visits could potentially be avoided with this model, according to McKinsey's claims-based analysis. In this model, a patient with diabetes could have the flexibility to visit her doctor's office just once a year, instead of every few months. The patient's blood glucose levels are managed and monitored remotely with continuous glucose monitoring sensors. If she has questions or concerns, her doctors are just a quick telehealth appointment away. Twice a year, she heads to her local retail clinic to get her routine blood testing, including hemoglobin A1C. Both the patient and her doctor receive the results — and later that day, she'll connect virtually with her doctor to review them together. To fully integrate near-virtual office visits into the care continuum, "near-home" sites must be expanded for timely and convenient access to test results.
Optimizing telehealth in the future
Telehealth will play an important role in delivering upon the promise of Connected Care, transforming routine care with increased access, care continuity, and cost-effectiveness. Analysts estimate that virtual care could eventually replace up to 40% of in-person doctor visits that don't involve hospital stays.
To achieve the full potential of telehealth in improving long-term patient outcomes and overall efficiency, virtual care models need to be embedded directly into "brick and mortar" healthcare provider networks with redesigned protocols to guide patients to the right level of care at the right time. Clinical data must be integrated securely across settings and among multiple providers caring for a single patient. Importantly, this allows for a seamless provider-patient information exchange with tools that allow patients to manage their health across providers and platforms. In bringing care closer to home, telehealth puts consumers in the driver's seat by empowering them with the information to make the right health decisions — exactly when and where it's needed.